Lifetime Achievement Award
Lifetime Achievement Award: Scott Miller

Hi, My name is Susanne Bargmann. I am the ICCE Chief Advisor.

Since 2010, where whe had the first ACE Conference in Kansas City, it's been a tradition for us to honor people at these conferences for exceptional contributions to the research and practice of Feedback Informed Treatment and achieving clinical excellence. It is a great honor for me to present the finest ICCE Award we've ever given – the ICCE Lifetime Achievement Award.

The award goes to Scott Miller – the director of the ICCE.

Scott has been a pioneer in the field of outcome research for decades. He has written numerous books and articles on the topic, always with the goal of finding ways to improve the outcome of treatment for the clients we serve. He was the first in our field to talk about the importance of Deliberate Practice and point to a new way of understanding professional development. He is the reason we are having this conference!

Scott is a true visionary – seeing trends in our field long before any of us notice them. He is constantly challenging the status quo of our thinking, which can be a challenge for the rest of us trying to keep up with him. He never settles with an idea, but continues to pursue the truth about our field.

By his own example he sets a high standard that has been a true inspiration – he is the hardest worker I know, and he is the embodiment of deliberate practice, and where that will take you both in his approach to teaching and in his approach to writing.

As many of you already know – Scott is a fantastic speaker. He is one of the select few that get to present at the "Evolution of Psychotherapy" – a conference held every 4 years in Anaheim, US, where the biggest names in our field present their ideas. With his inspirational style he inspires thousands of professionals every year to think differently about their work.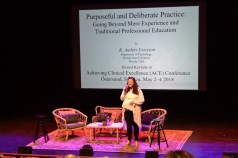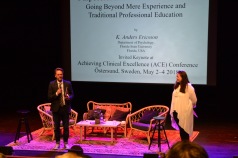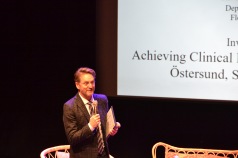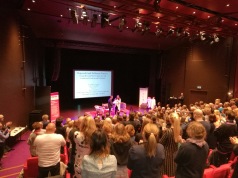 And – there is another side of Scott that may not be as well known. I've worked closely with Scott for close to 18 years now. He has been a phenomenal mentor, always believing more in me than I did. He has pushed me and challenged me to develop as a professional, as well as trusted me a lot more than I ever did myself. And by doing this he has challenged me to develop and grow into what he said I was.

I've asked some of people that work closely with Scott to share some of their thoughts on why Scott should recieve this award. Many of them highlight the qualities of Scott as a mentor

Cynthia Maeschalck says:

I want to highlight Scotts humor, his hard work and dedication to exposing the truth about research. His loyalty as a friend a colleague and his immense intelligence. Also his openness and generosity. I think of how he invited me – a virtual nobody - to work along side him and learn from him.

Jason Seidel says:

Scott is – like all great teachers – consistenly encouraging at a level that others don't reach. He has learned that to get people to do things that they didn't think were possible requires that certain kind of mentor, who is wathcing with a certain kind of benevolence instead of critiquing or judging. He cheers for you and convinces you it can be done. He exudes a sense of appreciation, gratitude, collaboration and humility – he keeps serving as a terrific model of what a leader should be: patient, persistent, forgiving, excited and friendly.

Daryl Chow says:

To me he is a gift that keeps on giving. One of the underrated gift he has is how he not only brings people together, but how he makes you feel smarter than you really are. He is doggedly committed to the pursuit of the truth. AND – he is a pain to work with because he is so methodical – but that's because he is devoted to giving his best.

The award comes with gift, and for Scott I couldn't think of a better symbol than the Owl. This particular owl is handcrafted in oak based on the design of danish designer Paul Anker Andersen.

In the modern west the owl is associated with wisdom. When you google the symbolic meaning of the owl, this comes up at a website about spirit animals:

"The owl is emblematic of a deep connection with wisdom and intuitive knowledge. Seeing what is usually hidden to most. Seeing the true reality beyond illustion and deciet. The owl offers the inspiration and guidance neccessary to deeply explore the unknown and the magic of life".

Please join me in honoring Scott Miller!